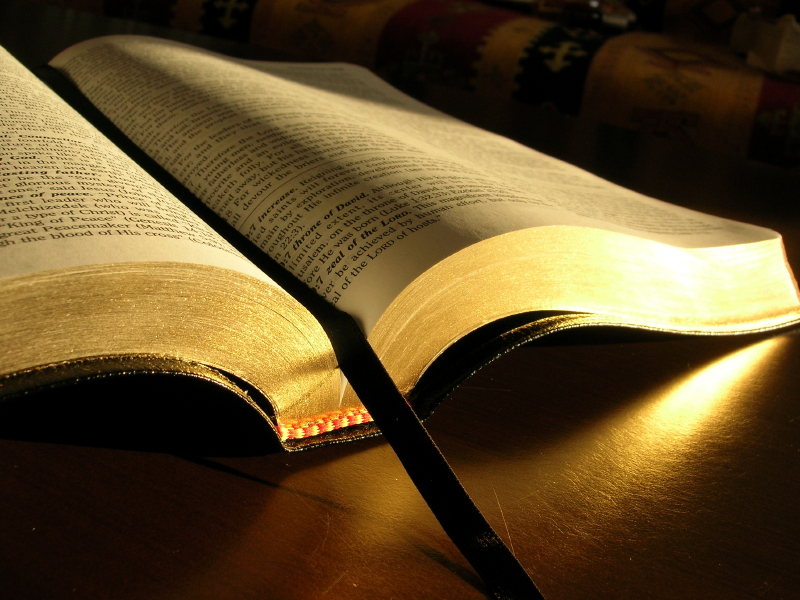 Shot Answer: Yes and No.  What I mean is that thought the Bible there is a mixed understanding about the authors of Biblical book as to what exactly they were writing.
The authors of Scripture actually vary on their opinion of their own writings and the writings of others.  Sometimes there is a clear statement that they felt they were speaking for God.  Other times there is no statement at all.  If you were to look at all the collective opinions of the writers of Scripture, you get a really mixed bag about this issue.  But let's look at things in more detail.
1) The Law of Moses – The Law of Moses is one of the few areas of the Bible that gets universal acclaim as inspired by God.  The Law itself claims direct divine statements that Moses simply records.  The rest of it is a chronicle of the origins of mankind and the Jewish people and their coming out of Egypt into freedom.  Every other writer of Scripture that speaks of the Law of Moses does so with the absolute assumption that the Law of Moses is the commands of God.  Jesus himself points out that not one stroke of a pen will pass from the Law until all is fulfilled.  There is however something to be said about even this divine inspired area od Scripture is not completely what God wanted.  Jesus points to the divorce laws that this is not what God really wanted but a concession to humanity.  He also repeatedly points out the Sabbath laws were made for man and thus could have some interpretive judgment in how they are applied.  Paul gets into the act in saying that the law was perfect, but overly so and that the grace of Christ trumps it.  The writer of Hebrews says the Law was good but the covenant under Christ was better.  The point is that even the Law of Moses as universally claimed to be inspired by God it was not so set in stone as to not be unalterable by God later.  This makes it interesting when we say something is inspired by God because it is clear that even the this idea does not mean that it can't be altered or changed by God later.
2) The Old Testament History – Outside the Law, the history of the Bible that follows through the conquest of Canaan, the time of the judges, unified kingdom, divided kingdom, exile and return are all recorded from the stand point of all  writers that follow, it is treated as accurate and reliable history.  The thing is that no one claims this is inspired so much as the events it records at times are inspired by God.  It is a chronicle of divine-human interaction.  It is on this basis that some writers of Scripture use it as examples of God and man that we should use in determining.  God does speak in these chronicles so that those things are divinely inspired are clear but the history of the Bible does not claim inspiration itself, it is more how other writers view it that leads us to the conclusion that perhaps it might be inspired.  This ends I suppose with Paul claiming the all scripture is given by inspiration of God which would make all of this inspired from his perspective and based on how Jesus and the other writers of the new Testament treated the Old Testament history, they would concur as well.  While is makes no claims itself to being inspired or from God, it certainly has other support form other writers of the Bible.
3. David and Solomon's Writings – David and Solomon seem to be like a golden age to the Jewish people.  It is for this reason that their writings were considered part of a historical time in which God became central to the Jewish people.  it is a time when the temple is planned and later built.  The thing is that David makes only a few claims that what he writes in song and the things he went through were God's doing.  Most of what he writes is expressions of his prayers to God.  He also isn't the only one to write Psalms at this point and so we are talking about other song writers.  Solomon claims to be very wise and that his wisdom comes from God so it might be said that God inspired his works indirectly as he wrote them.  The thing is even he has stuff in his writings that are actually wisdom literature from other people that he includes in Proverbs.  my point is that sometimes these writings are actually the combined work of several authors but the idea was to preserve good expressions of worship and wisdom for the people to follow.  All of it is founded on the commands of God and the Law.  Jesus and the writers of the New Testament confirm parts of this but quoting David as a prophet.  They cite David as an authority.  Solomon is considered wise by them and much of the philosophy of Jesus and the apostles seems to be based on his wisdom but there is no direct claim that both of these men were inspired but once again an assumption that they could make a case from David and Solomon for what they were talking about.
4. The Prophets – The prophets do claim many times to be speaking for God.  Part of what they also do to prove this point is to record some of the history surrounding their predictions showing that they were fulfilled.  The problem is they all do not do this, nor do they do it all the time.  There is a lot of 'thus says the Lord' but many times the prophecy is not fulfilled in the lifetime of the prophet and so you would have to conclude that God's people saw that it was fulfilled and realized only then it was inspired.  Jesus and the New Testament writers use the prophets both as authoritative and to prove their points to people who accept them as inspired.
5. The Gospels and Acts – None of the gospel writers claim that what they are inspired by God.  What they do all claim is that their accounts are accurate representations of what Jesus did and said.  It is questionable if they thought their writings were inspired by God, but all of them would claim that their account was historically accurate.  Even more problematic is that no other New Testament writer references them directly and so their authenticity rests in that they are historically accurate and the events chronicled are true.  Everything in the gospels and the history of the early church rests on historical reality.
6. Paul's Writings – Paul claims at times to be writing the commands of God but other times he claims he is not and just giving his advice.  It means that even from his perspective he was not sure as to the inspiration level of his works.  Peter authenticates him by saying he is scripture.   However, this is not clear with other writers.  What we need to understand is that Paul is unsure and one other person is sure.  This is not ironclad.
7. Other Epistles – All of them do not claim any 'Holy Scripture' status.  In fact, I think this is one of the hardest areas of the Bible to say is inspired because of this.  The only claim of inspiration is Peter but he is talking about Paul and not himself.
8. Revelation – definitely claims to be inspired directly from Jesus but other than that is the last book written so it gets no other Biblical support from other writers that also make this claim.
I want to summarize the problem.  I was looking for a triple authentication.  1) The writer claims his work is inspired, 2) Other writers of the Scriptures claim that work is inspired and 3) God himself claims inspiration.   To be honest no work of Scripture has this triple authentication.  The closest one is the Law but here Moses himself is silent on what he thinks about his writings. God is clearly speaking and other writers authenticate this through history but Moses himself has no directly stated opinion.  It gets worse as time passes for other writers of Scripture.  It is actually difficult to get double authentication other than the writers of the Old Testament get authenticated by the New testament writers.  However, some of those od Testament writings neither have a God speaking or the writer himself claiming inspiration.  Ruth and Esther are good examples of this.
Simply put the Bible is at times very clear about some parts of it that gets the claim of inspiration but other parts is completely silent other than a blanket 'All Scripture is inspired' from Paul.  The books of the bible all make different claims about themselves and not always do the writers of those books claim they are speaking for God.  Yes the Bible at times and places that are very specific are inspired but No, the claim is not universal and fully authenticated by the Scriptures themselves.
Next: Application – What Kind of Inspiration Does the Bible Claim?